It has been an honour for Centre colleagues to support a national schools' project conceived and created by Nicola Wetherall, and led by Royal Wootton Bassett Academy, 'The Holocaust, Their Family, Me and Us'. Inspired by the two-part BBC and Wall to Wall Media documentary series 'My Family, the Holocaust and Me' and featuring Robert Rinder MBE facilitating other second and third generation British Jews – like he and his mother, Angela –  to discover more about their families Holocaust related past. RWBA's innovative and unique educational partnership has reached almost 60 schools in just 6 months. Young people in participating schools follow one of four British Jewish families' 'journey' featured in the programmes and have immersed themselves in the Holocaust history, through a human story to reflect upon what their learning means for them as individuals (the 'me') and with a creative collective school community response (the 'us').
Over recent months the Centre were invited to support this unique project, to provide online bespoke workshops to deepen and enrich student understanding of some of the context to Robert and his mother Angela's family story, and those of Bernie Graham, Louisa and Natalie Clein and Noemie Lopian. A range of our materials and lessons have been used by project teachers across the country to enhance the students experience and, as two-thirds of the schools participating in the project are UCL Beacon Schools – the Centre's research and pedagogy underpins the approach. But this week we were proud to partner with RWBA, with Pears Foundation support, to welcome to UCL IOE London students from two of our Beacon Schools currently engaged in the project, Malet Lambert School and Priestlands School. This unique session saw a remarkable group of young people come together to deepen their knowledge and understanding of the Holocaust, and the stories featured in the project through a bespoke series of workshops, delivered by the Centre team. What made this event all the more enriching and special, was the presence of Robert Rinder MBE and his mother Angela Cohen MBE, who generously gave their time to spend the afternoon to surprise and work alongside the students.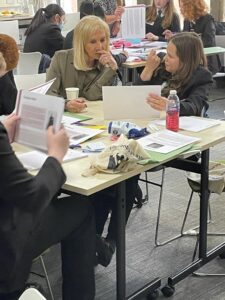 It was a pleasure and privilege to welcome Robert and Angela to the event on Tuesday, and to help engineer a situation where they could further engage with the project and directly experience young people learning about the story of their family and the Holocaust. The Centre's Dr Andy Pearce led part of the session, facilitating students, their teachers, Rob and Angela to explore 'A space called Treblinka', and remarked:
'For the uninitiated, a room full for teenagers staring at you, waiting on your words, watching your every move, can be a daunting and foreboding prospect. Indeed, it can (and often is!) this way for those who work with young people professionally. And yet neither Rob nor Angela were fazed by this situation; on the contrary, they threw themselves into action, participating directly in the learning that was taking place and – crucially – helping to facilitate students' learning themselves. Sometimes this took the form of questions or remarks to the students; other times it was an encouraging word or gesture; and on other occasions still it was a presence of mind to give young people the time and the space to speak and be heard. In these ways, they demonstrated the emotional empathy, wherewithal, and skillset of seasoned educators, with who it was a pleasure to work with, and spoke volumes about their whole-hearted commitment to this project, respect and regard for the students, teachers and schools involved'.
As Angela told the students:
'I was asked by the BBC to be part of my son Robert Rinder's programme 'My Family, the Holocaust and Me', and as part of that I visit Treblinka where all my father's family were murdered. Not in my wildest dreams did I think that now, with the pure genius of Nic Wetherall, there would be an education project like this, with you, involving 60 schools… the teaching today has been spectacular and I could see and feel how much these young learners were being guided and taught to think about understanding persecution.'
UCL Beacon Schools in Holocaust Education are hubs of educational excellence. But they do not become such overnight. It requires dedication, hard-work, commitment from individual teachers; it relies on senior leaders who support those teachers and teams, to help them implement that vision; and these institutions rest on the creation of a school culture where staff and students recognise the importance and value of striving to improve teaching and learning about this dark history – it is little wonder then so many of our Beacon, Quality Mark and alumni schools have got involved in RWBA's initiative! All these characteristics and qualities are embodied by Malet Lambert and Priestlands schools, and were evident on Tuesday, when they joined us, in London, for this special 'The Holocaust, their Family, Me and Us' event. Dr Pearce remarked:
'Twenty-six incredible young people, together with inspirational Lead teachers Amy Norman and Matt Pitcher, travelled from the North and South of the country to come together in a unique learning experience. Despite the long journey, they brought with them enthusiasm, passion, and intrigue – characteristics that then saw them create an afternoon full of profound insight and thinking. It was remarkable to experience. And a reminder of how truly powerful a collaborative a learning journey involving adults and students can be.'
Among his many thoughtful reflections on the visit and workshop Robert Rinder said:
'It was a privilege to bare witness to the transformative nature of the learning in the room – the young learners were courageous and true candles in the darkness – whilst to experience first hand the depth, quality and innovation of the teaching approach, epitomised by Dr Pearce and Centre colleagues' expertise, and see its impact upon the young learners was a gift.'
Malet and Priestlands students were fantastic. It was clear from their insightful, thoughtful, informed questions, suggestions, observations, and answers that the impact of their learning and engagement across this programme was profound. Their contributions revealed depth and breadth of knowledge, their understanding both cognitive and affective, their conduct, respect, warmth and confidence made each and every one a delight to be around – put simply it was a pleasure for Centre's team to work alongside – they were a credit to their schools, wonderful teachers, families and communities.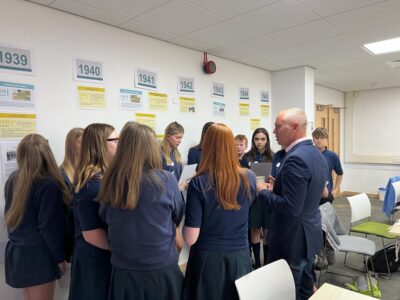 Malet Lambert's Lead Teacher Amy Norman said:
'The visit to UCL IOE London has had a huge impact on our pupils. They got the opportunity to meet and ask Robert and Angela their questions and to hear more about their family history. The students could not stop talking about their experience on the 5hr coach trip back to Hull! The students commented that it is a day they will never forget. I could not be prouder of everything they have done as part of this project… RWBA initiative and invitation to be part of it… has impacted our students enormously. It has given them not only the opportunity to enhance their knowledge of the Holocaust but to explore the human impact'.
Matt Pitcher, Lead Teacher from Priestlands School, said:
'The project has given us the opportunity to look at one family whose lives have been touched by hatred and persecution but from that darkness we have learned that hope and light does exist. These testimonies are being passed onto us to tell and, following Angela and Robert's words at the workshop, we need courage to keep that light burning. We have learned so much from the project, from the visit, and we look forward to continuing it over the years to come.'
This collaboration with RWBA builds upon several years of sustained partnership between the school, Trust and UCL and it was great to renew our relationship with CEO George Croxford, and for him to see the wider impact of work originated, conceived and rolled out by a school and colleague in his Trust family, and to represent Nicola Wetherall whose vision to take a documentary series and powerfully embed it, offers a new dimension to Holocaust teaching and learning. It's an exciting innovation in the field and we are excited to partner and play a small part in the project's success to date.
A visibly moved and inspired Angela Cohen MBE reflected on her visit thus:
'By the end of the afternoon I was in tears. The impact this programme had on the pupils confirms that this is by far the most compelling Holocaust education programme I have ever witnessed! Over the years I have been involved with Holocaust education and this project is by far the most potent method of educating young people about recognising discrimination and racism.'
The visit, and student workshops, were a unique occasion and opportunity for Andy, together with Centre colleagues Corey Soper and Helen McCord to work directly with young people and partners. Typically, our staff primarily work with teachers across our ITE, CPD and other professional development programmes – so the opportunity to work with students made for a wonderful collaboration and a day that will live long in the memories of all those involved.
Dr Pearce said:
'We are extremely proud of what Royal Wootton Bassett Academy – one of our oldest Beacon Schools – has achieved through their 'The Holocaust, their Family, Me and Us' project. This wonderful initiative is a superb illustration of what can happen when teachers feel empowered and supported, and when students are inspired and energised. In this way, the brilliance of the project resides not just in the innovative idea and stimulus of using the BBC documentary as a vehicle for students to begin a journey into the experiences of the Holocaust and its aftermath – but in how it has galvanised teachers, senior leaders and students alike to engage with complex issues around identity, community, criticality as well as the history and of memory.'
Robert Rinder said:
'It remains an honour to continue my support for Royal Wootton Bassett Academy's #HtFMeUs schools project, based on and inspired by my BBC documentary, and to have visited UCL Centre for Holocaust Education today at the IOE reaffirmed that. To have the opportunity to learn alongside participants Malet Lambert and Priestlands schools, who are following my grandfather and family's story was very special and a unique experience… It's a remarkable project, a fantastic partnership with UCL and the students amazed my mum and I with their care for us, knowledge of our family's story, their historical insights and understanding, investment in the project and their thoughtful, reflective contributions…'
It was a delight for us to welcome Robert and Angela to the UCL IOE and we look forward to an ongoing relationship and continuing the important and compelling conversations that began on Tuesday in the weeks, months, and years to come. It is a pleasure for the Centre to support this initiative – '…special thanks go to Andy Pearce, Helen McCord and Corey Soper and the UCL team who led the workshops and facilitated the learning discussions' said George Croxford and the wider Centre team who worked to make the event possible, a success (and to the teachers who kept the secret of our special guests from their students). We offer our warmest congratulations, to Nicola Wetherall MBE who has pioneered the project, to Royal Wootton Bassett and the Trust CEO George Croxford who have led and supported it, and to the 58 schools who have participated this year. We look forward to working closely with Nic, RWBA and future partner schools as a new cohort of schools begin their journey and we will continue to offer whatever support we can as the project evolves.
Learn more about the #HtFMeUs project, and how to get your school involved for Sept 2022, by contacting Nicola Wetherall or following @RWBAHolocaust.