Overview
Applications for the 2022/23 Beacon School programme are now closed. Please register for our newsletter if you would like to be kept updated on our programme for 2023/24.
The Beacon School Programme is an opportunity to engage with our flagship programme to enhance provision and practice for Holocaust teaching and learning in schools.
Every year, the UCL Centre for Holocaust Education looks to recruit up to 20 secondary schools in England committed to enhancing teaching and learning about the Holocaust. UCL Beacon Schools in Holocaust Education work to significantly improve their provision for teaching and learning about the Holocaust and be in a position to, in collaboration with the Centre, become dynamic hubs serving a network of local schools to improve teaching standards, raise pupil achievement, strengthen SMSC provision, enhance safeguarding and support whole school improvement.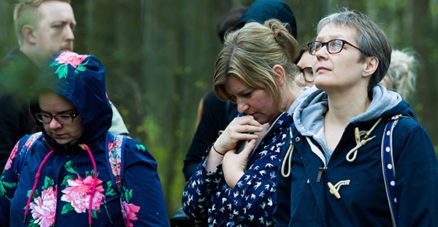 A successful Beacon School application enables a named Lead Teacher to deepen their subject and content knowledge about the Holocaust, by access to a range of bespoke, specialist online and face-to-face taught modules and opportunities. They will have access to excellent classroom resources, get recommendations for teaching and learning about the Holocaust, guidance on devising quality lesson plans and materials that build progression both for improved student outcomes – academic and holistic – and by way of professional development.
Lead Teachers may apply from History, RE, English, the arts, social science, MFL or other contexts in which Holocaust teaching and learning takes place. A job share of the Lead Teacher role can be accommodated if it is not possible for one person to undertake the role.
The Lead Teacher will be informed by the Centre's research and be encouraged to reach out to their school's wider networks and local associations to promote the programme and the Centre's CPD modules, special events and other opportunities.
Lead Teachers, following mentoring from our team of experts, will develop a series of high-quality lessons that help to form a framework/scheme of learning on the Holocaust, specifically targeted to the needs of their pupils and mindful of the community they serve and the context within which they operate. Alongside a named SLT link, the Lead Teacher will work to make Holocaust education a priority and, over time, develop or enhance cross-curricular, inter-disciplinary or indeed whole school approaches. They will also advocate to other schools for better Holocaust education and practice, alerting them to the Centre's free CPD and opportunities to support ITE-SLT.
In addition, the programme offers a concise SLT link programme to support curriculum design, safeguarding, citizenship, SMSC and personal development, whole school approaches, contemporary significance and support to identify and tackle antisemitism, Holocaust denial and distortion. Often the SLT link may have a line management role for the Lead Teacher's department or be the DSL but must be able to provide senior leadership support for the Lead Teacher across the year. The SLT will help to ensure the whole school is aware of the Beacon School journey that the school is undertaking and will encourage staff to take part in 2 short online CPD sessions to ensure cohesion and understanding.
What does it cost?
The programme is rare in that it provides first class engagement to schools free of charge and includes the CPD provided, materials and resources, university expertise and personal mentorship.
This year, as we emerge out of COVID, we are running a hybrid online programme incorporating one face-to-face London weekend residential element (which will be condensed and offered online if COVID restrictions change). Hotel accommodation and meals during this will all be covered by the Centre and we may be able to help with travel costs to and from the programme.
Why would a school apply?
This is an opportunity for your school to:
partner with the world's top-rated university for education
raise the quality of learning and expectations in your school
help your students to become more engaged in their own learning and more independent, critical thinkers
IOE, UCL's Faculty of Education and Society, has been judged 'Outstanding' by Ofsted at every level and on every criteria of Initial Teacher Education. The Centre for Holocaust Education combines extensive research into classroom needs with a teacher development programme and effective educational resources specifically designed to meet these challenges.
What is the impact on pupil outcomes?
Watch our teachers and senior leaders talking about what it means to be a Beacon School
What qualifies a school for Beacon School status?
It is important that each Beacon School identifies a dynamic Lead Teacher to take the initiative forward and coordinate Holocaust education at your school. The key aim for this teacher is to lead improvements to the quality of Holocaust education in their school through embedding the Centre's pedagogical principles, elements of its teaching and learning materials, into their schools. A key element of this will be for the Lead Teacher to develop 2-3 lessons as part of a refreshed scheme of learning. The nominated Lead Teacher will, therefore, need to show leadership potential, commitment to teaching and learning about the Holocaust, and degree of understanding of the Centre's approach.
Evidence of this would ideally be in confirmation of engagement with the Centre's CPD offer.  Ideally, the Lead teacher will have attended some or preferably all of the eight twilight, online sessions of the Centre's modular CPD course: What was the Holocaust, how do I teach it and why does it matter?  by the time term begins in September 2022. The modules will be running throughout Summer 2022 and are available to book here. They will also be available in Autumn and Spring 2022-23.
Beacon Schools will also be committed to the view that the Holocaust is a critically important part of young people's education while appreciating the complex challenges that the Holocaust raises as a school subject. Schools who apply need to demonstrate an existing commitment to the importance of Holocaust education as well as a keenness to embrace creativity and innovation into their curriculum.
Schools chosen for the programme will not be expected to already have an exemplary standard of Holocaust education embedded into their school teaching and learning programme. The idea is that being on the Beacon School programme is a process: a journey in partnership with the Centre, rather than an end point. What is required is a commitment to increasing expertise and teaching standards to advanced levels.
Please note, we can only offer places on the Beacon School Programme to secondary schools located in England.
If you have any questions about the Beacon School programme, please email: holocaust@ucl.ac.uk or call 0207 612 6437
Find out more about the work of our existing Beacon Schools
The Centre's Beacon School Programme in Holocaust Education is made possible through the generous funding of the Pears Foundation and the Department for Education.