Overview
This is a fully online opportunity to engage with our flagship programme to enhance provision and practice for Holocaust teaching and learning in schools.
Every year, the UCL Centre for Holocaust Education looks to recruit up to 20 secondary schools in England committed to enhancing teaching and learning about the Holocaust. UCL Beacon Schools in Holocaust Education become dynamic hubs serving a network of local schools and partner with the Centre to improve teaching standards, raise pupil achievement, strengthen SMSC provision, enhance safeguarding and support whole school improvement.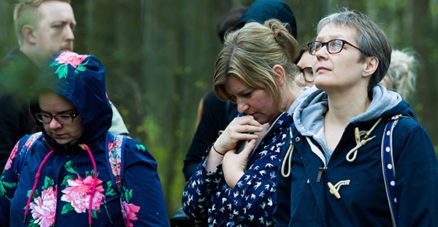 A successful Beacon School application enables a named Lead Teacher to deepen their subject and content knowledge about the Holocaust, by access to a range of online taught modules and opportunities. They will have access to excellent classroom resources, get recommendations for teaching and learning about the Holocaust, guidance on devising quality SoL, lesson plans and material that build progression – both for improved student outcomes, academic and holistic – and by way of professional development.
Lead Teachers may apply from History, RE, English, the arts, social science, MFL or other contexts in which Holocaust teaching and learning takes place.
A Lead Teacher will be informed by the Centre's research and be encouraged to reach out to their school's wider networks and local associations to promote the programme and the Centre's CPD modules, special events and other sessions.
Lead Teachers will develop a Scheme of Work/Learning overview regarding the Holocaust, specifically targeted to the needs of their pupils and mindful of the community they serve and the context within which they operate. Alongside a named SLT link, the Lead Teacher will work to make Holocaust education a priority – overtime, developing or enhancing cross-curricular, inter-disciplinary or indeed whole school approaches – and advocate to other schools for better Holocaust education and practice, alerting them to the Centre's free CPD and opportunities to support ITE-SLT.
In addition, the programme offers a SLT link programme to support curriculum design, safeguarding, citizenship, SMSC and personal development, whole school approaches, contemporary significant and support to identity and tackle antisemitism, denial and distortion. Often the SLT link may have a line management role for the Lead Teachers department or be the DSL but must be in a position to provide senior leadership support for the Lead Teacher across the year.
What does it cost?
The programme is provided to schools free of charge and includes the CPD provided, materials and resources, university expertise and personal mentorship.
Why would a school apply?
This is an opportunity for your school to partner with the world's top-rated university for education, to raise the quality of learning and expectations in your school, and to help your students to become more engaged in their own learning and more independent, critical thinkers. UCL Institute of Education has been judged 'Outstanding' by Ofsted at every level and on every criteria of Initial Teacher Education. The Centre combines extensive research into classroom needs with a teacher development programme and effective educational resources specifically designed to meet these challenges.