Some, when asked 'What do you want to do when you grow up?', 'What will you do when you leave school?', know their pathway have an ambition, talent, skill, or idea of what job, occupation, vocation is for them. Many have no idea – or their ideas and aspirations evolve and change. There are those among us, who were simply 'born to teach', others come to the profession by a chance of circumstances and experience, or an inspirational teacher memory, and there are those whose lives led them to a total career change.
The route into teaching itself is equally varied and the journeys by which teachers and schools come to engage with the UCL Centre for Holocaust Education are diverse. So, on this National Careers Week (7-12 March 2022) we asked a Centre colleague to reflect on their personal and professional journey.
In this blog, researcher Dr Becky Hale discusses her education, careers and professional journey – and thereafter four teachers, Sara Sinaguglia, Stephen Kneller, Michelle Adams and Caroline West, who are at different career stages, from varied contexts, share their experiences and insights, the way in which they encountered the Centre and how that professional pathway since has been impacted by that engagement.
"I have been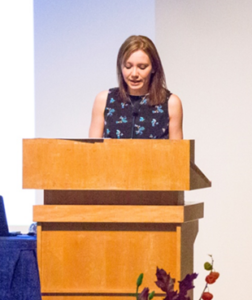 working as a researcher at the UCL Centre for Holocaust Education since 2013. My initial role – on a two-year contract – was to work on the Centre's national study with students, but almost nine years later and I'm still here!
However, if you asked me as a teenager what job I'd be doing now, this isn't what I would have predicted. When selecting my A-level subjects (biology, chemistry and psychology) I was hoping to become a vet. However, it quickly became apparent that (a) I was too squeamish for the surgical side of veterinary practice, (b) I really enjoyed learning about psychology, and (c) I was rubbish at chemistry. I secured a conditional offer to study psychology at university; however, I failed chemistry and lost my place at the university. I considered going through the UCAS clearing process, but I couldn't find a course I wanted to do. Thus, I went back to college and did an English A-level in a year (so I could pretend the chemistry A-level never happened!). This time I was keen to get a place at Keele University, which I'd heard about only months before. Keele University offered dual-honours degrees, and I liked the sound of studying two subjects. Unsure of what my second subject should be, I opted for education studies because it sounded interesting.
Without question, I am very glad about how things turned out. At 18, when I failed my A-level and lost my place at university, I was heartbroken. Having to return to college when my friends were starting university was tough. But without that experience, I never would have discovered Keele University, and I never would have considered studying education studies. Studying this subject, was critical to the path my career would take.
After graduating from Keele University, I did a PGCE at the University of Leicester training to become a psychology teacher, and then worked at a brilliant secondary school. But alas, further study was calling me, and I sent a few emails to universities enquiring about Master's degrees. Unbeknown to me my email account wasn't working and not receiving emails. Amongst the universities I'd contacted was Keele University. When they had no success in replying to my email, a lecturer dug out my undergraduate contact details (my mum's house where I no longer lived!) and one Saturday afternoon called that number and spoke to my mum (who was of course very excited!). On getting my number from my mum, the lecturer called me to discuss postgraduate options. Thus, on that Saturday afternoon, my career very unexpectedly changed direction. I returned to Keele University to do a Masters in psychological research methods, followed by a PhD in psychology which explored the experiences of parents whose children were bullied. The idea for this came from my experience of being a year 9 form tutor and supporting not just students, but also their parents, during incidents of peer victimisation.
I began my PhD just as the 2007 credit crunch began, and postgraduate funding became especially tough to secure. Thus, I decided to self-fund my PhD. Juggling work with studying was challenging, and there were many times when I considered quitting. I was fortunate to have lots of support from my supervisors and other lecturers in the department. I worked as a research assistant on numerous projects, which enabled me to finance my studies, and served as incredible training for becoming a researcher. It meant that when I finished my PhD, I had built up a great deal of experience and expertise which was critical in getting my position at the UCL Centre for Holocaust Education.
For me, working as a researcher has been the perfect career. No two days are ever the same – I could be designing surveys, reading research articles, visiting schools to work with teachers and students, preparing a presentation, writing a research paper, observing one of the excellent CPD courses my colleagues run, doing analyses on quantitative and qualitative data, or contributing to data releases which are often used by the media.  I'm constantly learning new things, not only through the research I personally work on, but through learning about the work of others at UCL. When you work in academia you have constant access to cutting edge research from a range of disciplines. I've had the opportunity to travel to different countries to partner with educators and research teams across Europe. Through my role at the Centre, I've had the privilege of meeting many incredible people including Holocaust survivors, teachers and students. I love my job and feel very fortunate to work at such a pioneering Centre, contributing to important world-leading research which has a direct impact on the Centre's CPD programme, in turn transforming Holocaust education across the country."
Teacher Portraits