We are delighted to announce the Centre's fifth Quality Mark Beacon School Royal Wootton Bassett Academy. Congratulations to Headteacher George Croxford, the lead teacher, staff and students.
The school, its students, staff, parent and community should be hugely proud of what they have achieved so far. Beacon School status has truly been embraced, valued and a driver for whole school improvement and it is right that they should be recognised for their commitment to Holocaust education with this prestigious award.
Headteacher George Croxford reflected on the report and process:
'Being a UCL Quality Mark Beacon School brings fabulous formal and external recognition for our school for what I see as one of the most important parts of our whole person education…the students love it and have responded fantastically to it.'

'…in education it's all about sharing… to be outward facing and I think it's your duty as a headteacher to be doing that, so if you have something wonderful like a specialism in Holocaust education then you should absolutely think of becoming a Beacon School. If you later get that Quality Mark status like we do today, then you get fabulous recognition of a superb programme and highly respected organisation, it confirms you have superb teaching and learning going on and you are able to share your wonderful practice and CPD with other schools, which is what I believe education is all about. I am therefore so proud of achieving this status, of the tireless work our Lead Teacher Nicola Wetherall puts in, and the commitment and enthusiasm of our staff and students.'

'The Beacon School journey has moved teaching and learning forward here, I believe, massively.'

'The training is absolutely brilliant. It's about developing an enquiring mind…which I think is massively, massively powerful.'

'…proof of Beacon School status impact? We have abundant proof. The UCL Quality Mark process has confirmed and externally verified this. We have staff all over our school, in every single department who have all done aspects of UCL training which has moved their practice forward…we have our own SCITT… they have absolutely loved this training because its about dealing with difficult issues, we know what a difference this has made to teaching and learning in our school, and if for no other reason, that is the perfect reason why I would actively encourage Headteacher's to champion Holocaust education and become a UCL Beacon School.

'I am so proud to lead this school, and Holocaust Education, its UCL Quality Marked Beacon School status, is a key part of what makes it so special. It is a honour to achieve this recognition and I am grateful to Dr Pearce for such a professional, vigorous, but supportive and developmental review visit. It has reinforced and supported our own judgement whilst posing key questions for consideration to evolve and improve our work.'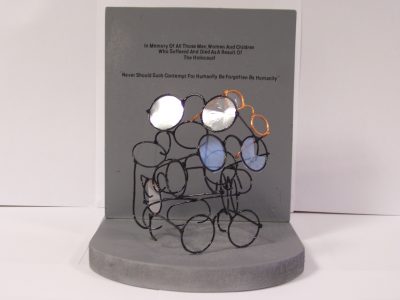 Student work: 'In memory of all those men, women and children who suffered and died as a result of the Holocaust'
The Centre's Dr Andy Pearce and reviewer said:
'Royal Wootton Bassett is a Beacon School in all senses of the term. It is a hub of educational excellence, where one finds very high standards of teaching and learning about the Holocaust, and cannot fail but to be inspired by what teachers and students can achieve. Its Holocaust and Genocide Programme is exemplary in its intelligent design, appreciation of multi-disciplinary learning, and symbiosis with CPD; its staff and Senior Leaders are committed pedagogues, passionate about advancing young people's understanding of this complex and challenging past; and its students are grounded, well-informed young men and women who's love of learning is infectious.'
Here is a wonderful example of UCL and schools working in long-standing partnership, to the benefit and development of both school and UCL. Royal Wootton Bassett Academy encapsulates 'the possible' Beacon School principle and have led the way in innovation and application of the Centre pedagogical principles for the benefit of its learners, teachers and wider community: a compelling example of what is possible with quality provision for and delivery of Holocaust and genocide education programmes.
Read the full report: UCL RWBA QM Report