Thrilled to announce our 12th Quality Mark Beacon School – Croydon High School.
In Ms Fenwick (Beacon School Lead Teacher), Croydon High School have a committed Holocaust educator, an experienced and innovative, gifted teacher and aspiring middle leader, determined to develop Beacon School status and provision. She enjoys the collegiality of her department and the support of colleagues across the school, especially Ms Austen and Ms Kelly; all have embraced the Beacon School programme and adopted the scheme of work and the Centre's pedagogy. All this has been made possible by senior colleagues Mr Burnie (Beacon School SLT link) and Mrs Pattinson (Headmistress) whose support in facilitating curriculum opportunity and innovation, CPD access and networking, has ensured Holocaust education is a right for all learners. Senior leaders recognise the whole-school benefits of quality provision for and experience of Holocaust teaching and learning, they appreciate the academic and holistic outcomes that such a profound and rich learning experience provides. In committing to the Beacon School programme – Croydon High has relished the opportunity to invest in staff with the programme's FREE access to specialist CPD and embraced research informed practice. The outcome is a rich and vibrant Holocaust curriculum; the commitment and passion of Ms Fenwick guaranteed a strong scheme of work, authentically linked to the school's character, values and mission, and ambitiously embedded within its disciplinary distinctive context. Combined with impressive enrichment opportunities, Holocaust provision at Croydon High is resulting in impressive and creative student outcomes. It demonstrates just what is possible when professionals work together in a spirit of openness, collaboration of specialism and vision.
Together with the UCL Centre for Holocaust Education, Croydon High School has truly embarked on the 'Beacon School journey' to its fullest – it is an immense team effort and we are delighted to partner with you and re-designate the schools Beacon School status for a further three years.
Key strengths of Croydon High School's quality provision for and evolving specialism in Holocaust education include:
The quality of teaching and learning, and the outcomes for learners, particularly within History, has benefitted from Beacon School status.
Beacon School status plays a crucial part in securing excellent SMSC provision and this should be widely celebrated.
Headteacher Mrs Pattinson is an articulate advocate for Holocaust teaching and learning and appreciates its contribution to the curriculum and the Croydon High School experience. She is rightly proud of Ms Fenwick's Beacon Schools work to date and is committed to supporting its future development.
Commitment to developing opportunities in keeping with a spiral curriculum.
Senior leaders and teachers are committed to the principle that all learners have the right to access quality Holocaust education.
The scheme of work/learning is enhanced by a range of UCL Centre for Holocaust Education materials, and richly informed by its pedagogy and educational principles.
Attainment outcomes are impressive and demonstrates impact of the scheme, approach and learning; both substantively and holistically.
Creative opportunities within the scheme, and indeed in collapsed curriculum days, demonstrates rich and deep learning.
The centrepiece of Croydon High Schools strength in Holocaust education is built upon quality teaching and learning: the lesson observed for the purposes of review bore all hallmarks of quality teaching, rather than just quality teaching about the Holocaust.
Personal stories were a feature of the Holocaust scheme of work that the students found particularly compelling, especially the thread of Leon Greenman and family.
Strong and supportive leadership from the Mr Burnie as SLT link has been critical to the success of the development of Holocaust teaching and learning at Croydon High and in enabling specialist UCL CPD opportunities for staff.
Ms Fenwick's knowledge, commitment and emerging specialism in Holocaust education is widely acknowledged as the impetus of the project. She leads an experienced team of reflective practitioners and as Lead Teacher has been able to effectively communicate the programmes goals to fellow colleagues across the school to ensure movement towards an inter-disciplinary approach.
Croydon High School students were found to be articulate, thoughtful citizens; keen to learn, respectful and are the school's best advocates.
The school's Beacon School work undoubtedly contributes positively to safeguarding, developing learners' emotional literacy and citizenship.
The Beacon School project has been instrumental to staff and school engagement with academic and educational research.
The emergence of their creative but disciplinary distinct Holocaust provision in RE and English is ambitious and innovative. The embedding of metacognitive opportunities within Holocaust related schemes or lessons is outstanding.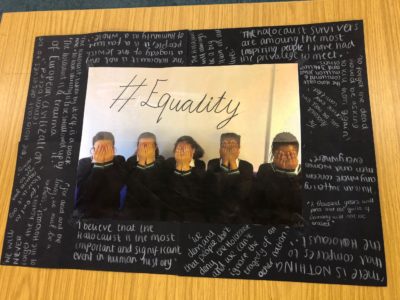 Our Quality Mark review process confirms that Croydon High School's Holocaust education is a powerful contributor to both a curriculum that informs, engages, empowers and inspires its learners and driver for school improvement. Given so much excellence, it is fitting Croydon High be recognised for its innovation in, provision for and commitment to quality Holocaust education with this prestigious award.
The Centre's Nicola Wetherall MBE remarked:
'It was a pleasure to visit Croydon High School. In your provision and practise you find core elements of what's best about UCL Beacon School status. With Headmistress Mrs Pattinson and SLT support from Mr Burnie, a gifted and ambitious Lead Teacher, Ms Fenwick, has embarked on a journey in partnership with the Centre, that has improved and enriched student outcomes, refreshed teaching and learning, encouraged research engagement and supported school improvement. The programme has reinvigorated colleagues, personally and professionally, and captured the girl's imagination. Your evolving specialism is clear: your provision for and quality teaching and learning about the Holocaust is impressive for its disciplinary distinctiveness, its innovation and impact. Within and outside the classroom, Croydon High is providing Holocaust learning opportunities that allow for the development of the girls' internal architecture. It is a superb example of Beacon school status benefitting whole school educational priorities – both academic and holistic. Thankyou to the students who welcomed me to their school and spoke so eloquently about their learning, and to the staff and senior leaders who gave me precious time to reflect upon the impact of their CPD, experience of Holocaust teaching and the outcomes for students. Together, you are doing impressive, and important, work. Your Quality Mark is richly deserved recognition, so congratulations to all involved.'
This is another example of the Centre's successful and impactful partnering with schools and their networks across the country. Croydon High School epitomises the ethos, aims and ambition of the Centre's Beacon School programme: all involved in the school's Quality Mark process, including mentor Emma O'Brien and Executive Director, Professor Stuart Foster are proud of the achievement, but with the school open to development and refining of practice we all look forward to seeing how its Holocaust teaching and learning develops.