Acclaim and awards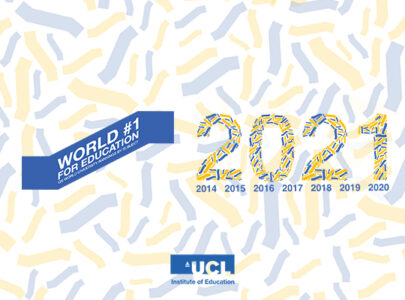 As a Centre based within IOE, UCL's Faculty of Education and Society, we make a significant contribution to maintaining the IOE's reputation as the world-leading institution in education.  We are proud of all that we have achieved since 2009.  Here you can discover more about some of these achievements:
UNESCO/OSCE Addressing Antisemitism curricula (2020)
November 2020 saw the public launch of Addressing Antisemitism in Schools: Training Curricula – a set of resources developed by the OSCE Office for Democratic Institutions and Human Rights and UNESCO with the support of the UCL Centre for Holocaust Education. This material responds to rising antisemitism in school environments by providing curriculum frameworks which can develop the competencies of trainee teachers and school directors. The curricula is now available for member states across the UNESCO/OSCE region.
British Educational Research Association (2020)
In late 2020, a College of Reviewers for the British Educational Research Association (BERA) announced that the UCL Centre for Holocaust Education had won the team prize for its Public Engagement and Impact Award. This prestigious accolade was awarded for the Centre's work in supporting teachers to combat myths and misconceptions prevalent within the classroom.
Ofsted (2016)
In March 2016, an Ofsted update issued to all secondary schools in England (over 4,000 institutions) stated inspectors should be made aware of work being done with the UCL Centre for Holocaust Education. Inspectors can now draw on Holocaust education as evidence for curriculum content (across different subject areas), and use it as evidence of how the school is contributing to pupils' learning, including personal development.
House of Commons Education Select Committee Holocaust education Inquiry (2015)
An inquiry into Holocaust education was launched in 2015 by the Education Select Committee. As part of this inquiry, the Committee collected a range of evidence from government officials, Holocaust education organisations, teachers and other stakeholders from within the United Kingdom and beyond. Many of those who submitted evidence which lauded the work of the Centre. This included commendations from teachers as well as the Imperial War Museums, the Department for Education, and UNESCO.
All Party Parliamentary Group Against Antisemitism (2015)
Findings from our research into young people's knowledge and understanding of the Holocaust were used in 2015 by the All Party Parliamentary Group Against Antisemitism, as part of an inquiry into antisemitism. The Group championed the Centre's work, stating: 'we recommend that the government increases its grant for the evidence-based teacher training conducted by the Centre for Holocaust Education at the Institute of Education, with a view to expanding its work and the number of teachers it is able to train.'
Prime Minister's Holocaust Commission (2014-2015)
In 2014, then Prime Minister David Cameron set up a Holocaust Commission. As the Commission gathered evidence, we provided consultation to the Commission and shared emerging findings from our study of students' knowledge and understanding. When the Commission published its findings in 2015, our research was cited as evidence that effective Holocaust education is failing to reach young people. The influence of our research on the Commission was recognised by Prime Minister Cameron in 2016, when he stated in personal correspondence that: 'early access to your report at the beginning of last year provided much of the evidence base for the recommendations the Commission made. The full final report will be a great help to the [UK Holocaust Memorial] Foundation.'