Today, on the anniversary of Leon Greenman's death, we are humbled and moved by the many profound and accomplished pieces of art produced by students in schools across the country in response to our competition. We asked students to send in their artwork inspired by the Holocaust Memorial Day theme of 'One Day' and the life of Leon Greenman, and below are just a few of the exceptional entries we received who we would like to pay particular consideration.
These two pieces both focussed on a portrait of Leon, and used their technical skill to express the trauma of survival during the Holocaust. Emma Brigly-Enomoto (Year 10) of Oakmoor School used frenetic, desperate linework to charge her piece with a restless energy, giving the sense of an unresolved, persistent trauma. Even though the figure is contemplating, they are unable to be still. Liam Packer (Year 10) of Verulam School used shade to highlight the contours of the face, giving a deep and persistent sense of stress and trauma. The figure is haunted by images of barbed wire and the image of a hanged man on the gallows, perhaps referring to Elie Weisel's image of the hanged boy in Night. Both pieces are highly evocative and technically proficient, showing a real mastery of craft.

Emma Brigly-Enomoto
Year 10
Oakmoor School


Liam Packer
Year 10
Verulam School
Many of our entries were drawn to Leon Greenman's portrait, and worked to create pieces inspired by it, capturing a sense of his emotional turmoil. Leon Furniss (Year 9), from St Clare's School, showed this with a single tear from Leon's eye, capturing both his hurt and his quiet strength. Annabel Fea (Year 11), from Pate's Grammar School, juxtaposed the pre-Holocaust youth of Leon with his older, traumatised self in his sketch, making use of delicate linework and colour to illustrate the difference between the younger and the older man. Both have Leon look directly into the eye of the audience – a provocation to remember.

Leon Furniss
Year 9


St Clare's School





Annabel Fea
Year 11
Pate's Grammar School
Other pieces drew on the central importance of the Greenman family to Leon's story. Alfie Gambling (Year 9) from Demeter House School here produced a beautifully realised image of the hands of the family touching, including Barney's small hand, as a symbol of that enduring memory. Alfie's use of soft, blended shading gives the piece a feel of calm, comfort and security, in stark contrast to many other works in the competition. This piece gives a powerful message of strength from the memory, and symbolically reunites the Greenman family.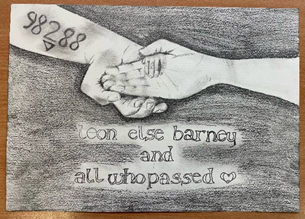 Alfie Gambling
Year 9
Demeter House School
Several schools produced works collectively as whole class-groups, and used them as displays around their school. We were seriously impressed by the complexity of these, and the numbers of original ideas expressed in these pieces. The function of these pieces as exhibitions for the community really re-enforces the importance of Holocaust education in these schools. Here you can see the work of Year 10 at Bushey Meads School, which featured a range of creative responses drawn together into an exhibition, drawn together by a single-wire thread of meaning. Students responded with sketches of Leon and his family and other images of hope and defiance to develop this complex and provocative piece.
Year 10
Bushey Meads School
Katy Newell, Helena Troake and Elizabeth Troake, a group of Year 9 students from Croydon High School, worked to produce a mixed-media piece which reproduced sentimental items from the life of Leon Greenman, such as his wedding rings, a hat belonging to Barney Greenman and a strip of his camp uniform. These were then contained in a 'Strepsils' box, in reference to Leon's own habit of collecting and curating items from earlier in his life. This piece dwells on the importance of memory, transforming every day and mundane objects into artefacts and memorials, and shows a deep and intimate understanding of Leon's struggles after his liberation from the Buchenwald. We also have to commend the innovative use of various materials and artistic skill to recreate these objects in miniature.
Katy Newell, Helena Troake and Elizabeth Troake
Year 9
Croydon High School
Some entries looked to instil a sense of fear and foreboding in their artwork. Harry Johnson (Year 7) from Ibstock Community College responded to the Holocaust Memorial Day theme of 'One Day' with his piece, which captures the day of the Greenman family being deported to Westerbork. The ominous figure at the door and the use of reds and blacks give this piece a powerful sense of doom, and illustrates how a single day or even a single moment can change the trajectory of a life, especially during times of genocide. The singular focus on the figure at the door reenforces the terror provoked by the perpetrator. Like the work of Emma and Liam, this piece discomforts and unsettles the viewer.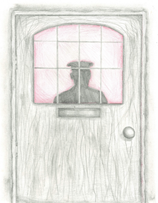 Harry Johnson
Year 7
Ibstock Community College
This piece, from Gabriela de Silva Gomes (Year 10) from Oakmoor School, captured the sense of division and dislocation experienced by Leon, with its composition uncomfortably divided by barbed wire and a striped colour scheme reminiscent of camp uniform. In this way, Gabriela shows a life haunted by the experiences of survival in Auschwitz and other camps. The forms surrounding Leon and partially abstract and partially realistic, adding to the sense of dislocation and the surreal. Molly Bostock (Year 8) from Ibstock Community College worked in a similar style, producing a portrait of Leon which is haunted by his Holocaust experiences, drawing on surreal, floating objects to access Leon's internal world

Molly Bostock
Year 8
Ibstock Community College

Gabriela de Silva Gomes
Year 10
Oakmoor School
With such a strong entry of exceptional artwork, it was a real challenge for us to determine our overall winners for each Key Stage as so many pieces were deserving of commendation.
In Key Stage 3, we chose the piece put forward by Year 8 at Torpoint Community College, and the individual work of Olivia (Year 7) from Royal Wooton Bassett Academy.
Olivia Yang's piece spoke directly to the theme, centring Leon's image in a clock which reenforced the importance of the single moment which lead to him being a prisoner in Auschwitz and his experiences as a Holocaust survivor. Olivia then chose to foreground a message of hope, drawing on words from Leon's testimony as an instruction to the viewer, referencing Leon's legacy in Holocaust education and in protesting and combatting the politics of the Far Right.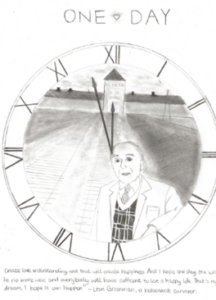 Olivia
Year 7
Royal Wootton Basset Academy
The collective piece from Year 8 at Torpoint Community College, which foregrounds a range of student responses reflecting on the theme of 'One Day', writing about a range of days in Leon's life that met the Holocaust Memorial Day theme – days of immense and sudden change and days of memory and reflection. In addition, the year group produced a range of portraits capturing Leon's' likeness at different times in his life, and with radically different depictions of mood and tone. This allowed the piece to capture a real variety of responses and artistic styles. The students brought their talents together to produce a huge scale portrait of Leon to which the whole group contributed, as a large memorial in the school community.
Year 8
Torpoint Community College
At Key Stage 4, we chose two radically different pieces, one by James Ackerman (Year 10) at Verulam School in St Alban's, and one by Jennifer Wong (Year 10), at Falinge Park School in Rochdale.
James' piece foregrounds the horror and dehumanisation of the Holocaust, making use of twisting, alien forms reminiscent of the work of H. R. Giger or Hieronymus Bosch. In the composition of the work in which these figures are grasping a torn and battered flag on the top of those bodies, we see shades of hope and resilience even in the worst possible circumstances. The tattered flag of Israel speaks to the hope that the formation of the state of Israel in 1948 brought to many victims of antisemitic persecution, and James' work evades all simple or redemptive messages. This is a provocative, challenging, and arresting artwork which unsettles and discomforts the viewer – as art about genocide should.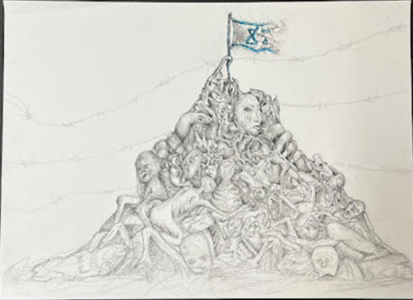 James Ackerman
Year 10
Verulam School
Jennifer's piece focussed on a portrait of Leon, and chooses three separate moments to dwell upon, giving Leon and a shifting, unfixed form, which speaks to the power a single day can have. The use of colour and brushwork in her piece creates an intimate portrait which captures the process of aging and transforming but retains the character of Leon in his eyes and in his facial expression. The final expression, looking upwards, is contemplative and thoughtful, and invites a viewer to share in that contemplation: of the power of a single day to change things, and of Leon's life and legacy in Holocaust education, and of the mental scars he experienced because of his experiences.
The technique is not evidence of just skill or talent but of an artist developing true virtuosity.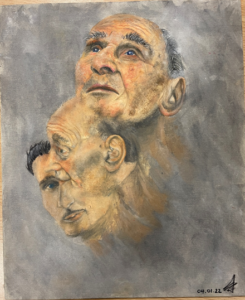 Jennifer Wong
Year 10
Falinge Park School
"I am truly inspired by these powerful art pieces. They demonstrate a depth of understanding of the trauma Leon experienced both during and after the Holocaust. That comes through each work in contrasting ways demonstrating tremendous intelligence and emotional grasp of the lasting impact of the Holocaust on those who witnessed it. Congratulations to all those who entered this challenge. Leon, who was a dear friend of mine, would have been deeply moved by these students' creative efforts.

Ruth-Anne
Associate Professor (Teaching) and Programme Director