Guest blog from our friends at Holocaust Memorial Day Trust
By Alex Blake, Education Officer
Holocaust Memorial Day (HMD) takes place on 27 January every year. Thousands of organisations and schools around the country take part in activities to learn about genocides and those affected by them, and consider what we can do as individuals to make the world a safer place for everyone.
HMD provides schools with a rare opportunity to support the History curriculum's Holocaust content with a broader understanding of genocides around the world. HMD commemorates the Holocaust, Nazi persecution of non-Jewish groups, and genocides that have happened since in Cambodia, Rwanda, Bosnia and Darfur. It also supports the curriculum by becoming an annual touchpoint for students to develop further understanding of the topic year by year.
At Holocaust Memorial Day Trust, our aim is that after engaging with HMD students will know more about the history of these events, feel a connection to individuals affected by them, and be motivated to do something as a result of what they have learned.
Below are a few examples from our large collection of free learning resources that help you to achieve this with your students. You can download these and other materials at www.hmd.org.uk/resources.
Days to Remember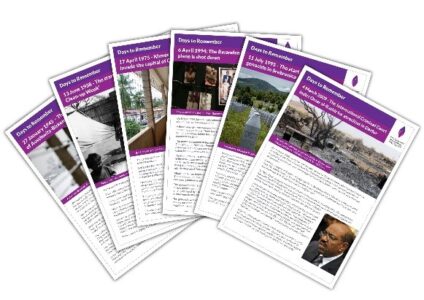 A collection of six worksheets that introduce different genocides through a key date, the experiences of one person and the story of one artefact.
Know – Students will learn about the genocide through the featured date and contextual information provided. They could research other key dates from the same genocide to broaden their knowledge.
Feel – Students will connect with the featured person and explore what the object can tell us about the lives of people during the genocide.
Do – We provide suggested activities, but this flexible resource allows teachers to use it in a range of ways, and students can use it as the basis for their own projects or presentations.
What happened to the Kindertransport children?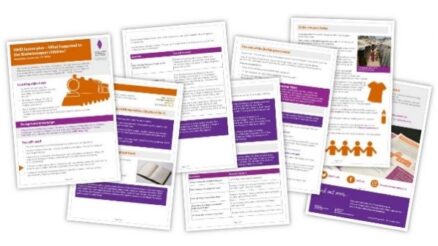 A lesson plan for 11–14-year-old students. Through testimony, artefacts and memorials it introduces the history of the Kindertransport – a programme that rescued 10,000 children from the Nazis.
Know – Students will see historical photos, hear recordings of young people who arrived on the Kindertransport, and discuss the British government's role and decisions they made.
Feel – Students will learn about Martha Blend who came to the UK at the age of 9 with her autograph book of messages from home. They will also discover the designs for a new memorial to the Kindertransport and discuss how events like this should be remembered.
Do – Students will learn about and discuss child refugeeism today, and what we can all do to help.
Take action: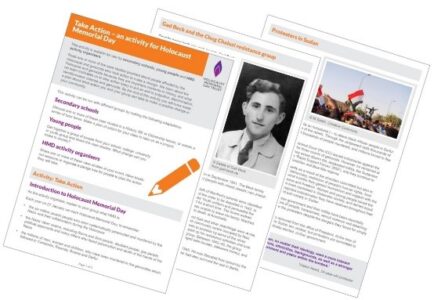 A collection of case studies of people affected by the Holocaust and genocides who took action to make a change – and a discussion of our own role as global citizens today.
Know – Students will learn about the Holocaust and the genocides in Bosnia and Darfur.
Feel – They will connect with three individuals or groups – particularly chosen as young courageous people that students may relate to.
Do – Students will be inspired that they have power and agency to change things today, and take part in an activity to identify a change they would like to see, and what they can do about it.
There are many more free learning resources available at www.hmd.org.uk/schools, for primary, secondary and SEND students.
If you are taking part in HMD please add your school to our map at www.hmd.org.uk/letusknow.
If you have any questions, require support, or just want to discuss your plans, you can contact Alex on education@hmd.org.uk.